List of Best YouTube to Mp3 converter for downloading and converting YouTube videos to MP4 or MP3 for offline watching or listeningat the best quality and high speed.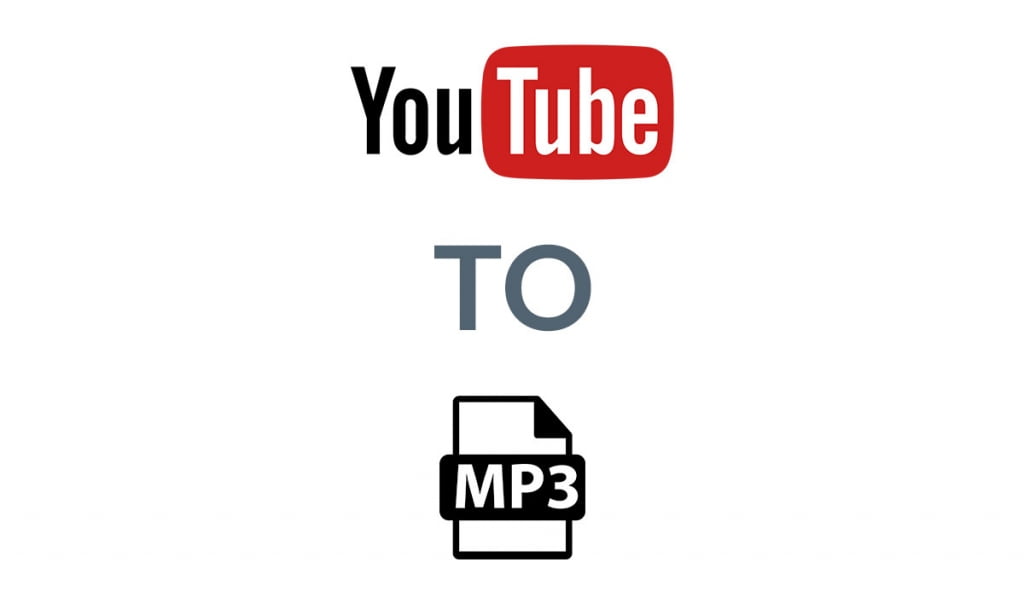 YouTube is the most popular and largest video sharing platform in the world for viewing and
uploading entertainment and music videos for free. Over 2 Billion logged-in users visit YouTube
each month and every day people watch over a billion hours of video and generate billions of
views. YouTube is the most popular video sharing platform to listen to music or watch videos
every day.
– Advertisement –
YouTube to MP3 converters will best option to download and listen your favourite songs
anywhere and anytime.
Using those top 10 Free YouTube to mp3 converter you can download YouTube videos and
convert them to MP4, MP3, WAV and WEBM.
How to Download YouTube to MP3
Check below step by step process to YouTube to MP3 converter and download MP3 file.
Step 1: Open online YouTube to MP3 converter site or App
Step 2: Copy YouTube video link you want to convert and download. And past into YouTube to
MP3 converter.
Step 3: Select file format to convert like MP3/MP4 etc and process.
Step 4: once the process is complete you can Download mp3 file and it's done.
Also Read: FREE 10 Best Anime Websites to Watch Online Best Anime Streaming
Top 10 Free YouTube to MP3 Converters Online
Following are some online most popular tools list of Top YouTube to MP3 Converter with
advanced features, support multiple file format, best quality, long video support and virus-free
tools.
– Advertisement –
The below list of the most popular free YouTube to MP3 converters
Musify
Any Video Converter Free
4K Video Downloader
YTBmp3
YTD Video Downloader & Video Converter
YouTube to Mp3
Easy YouTube to Mp3 Converter
Download Video and Audio from YouTube
Converto
ClipGrab
Also Read: Top 10 Free YouTube Video Downloader App for Android and iPhone
1). Musify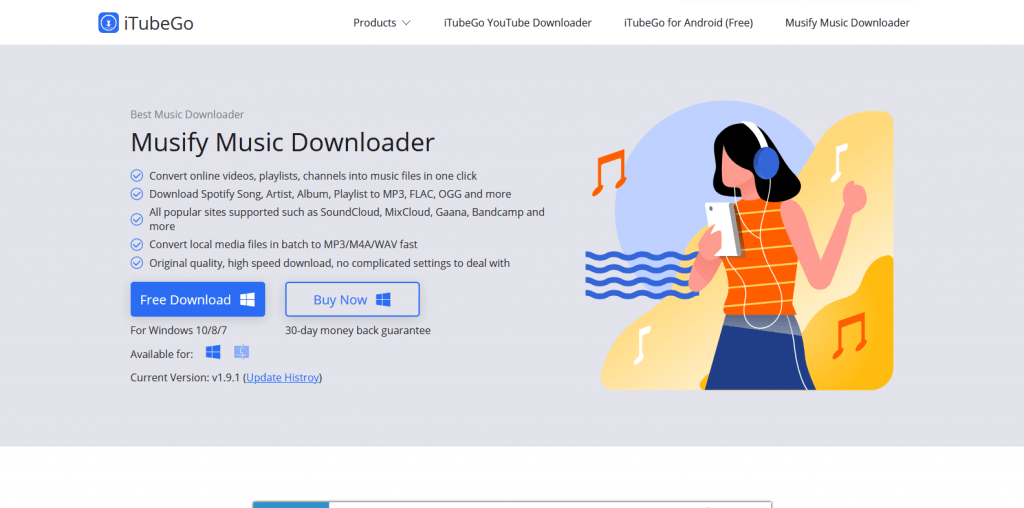 Musify – Best YouTube to Mp3 Downloader is a full solution for mp3 download and conversion, which can provide you with the best way to download and convert YouTube, Spotify music or playlists for offline playback. High-quality conversion for better compatibility with iPhone, iPad, iPod, iTunes, Android, etc.
Feature
Free MP3 converter
Free video downloader
YouTube playlist downloader
Music playlist downloader
Download lyrics in various languages
Built-in proxy settings
Free music downloader
Facebook video downloader
2). Any Video Converter Free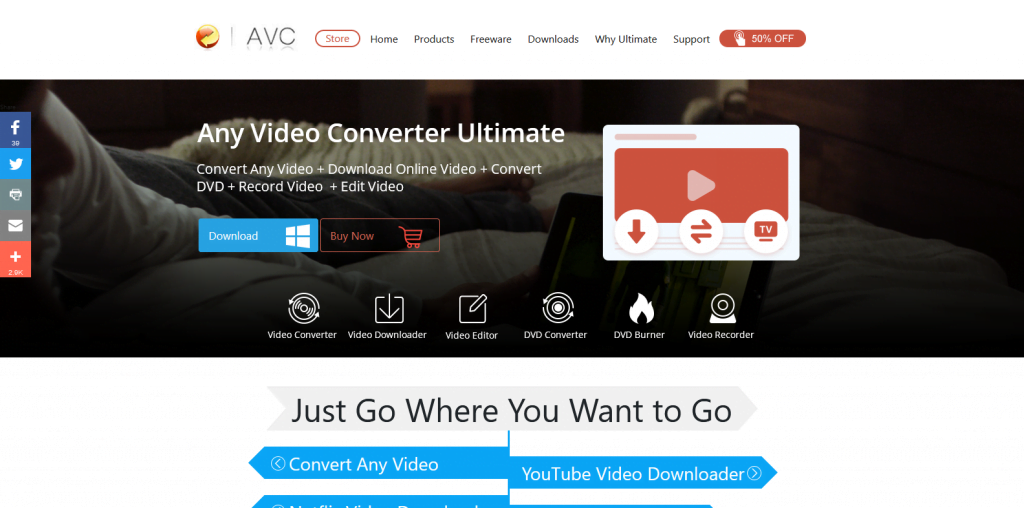 if you're looking for a fast, flexible YouTube to MP3 converter, this is the tool for you. You would be forgiven for judging Any Video Converter Free by its name and believing it to be a tool for converting from one video format to another. While this is part of what it can do, it can also be used to download videos from YouTube and save them as MP3s – exactly what we're looking for!
Features:
Any Video Converter will let you download the videos from various audio and video sites like YouTube, Facebook, Dailymotion, etc.
Any Video Converter Ultimate can record and capture video-screen with high output quality.
It supports batch downloading of videos and music from 100+ sites including YouTube.
It provides the features for video editing like trimming video clips, cropping, rotating, joining, etc.
It can rip and extract audio from CDs and Videos.
3). 4K Video Downloader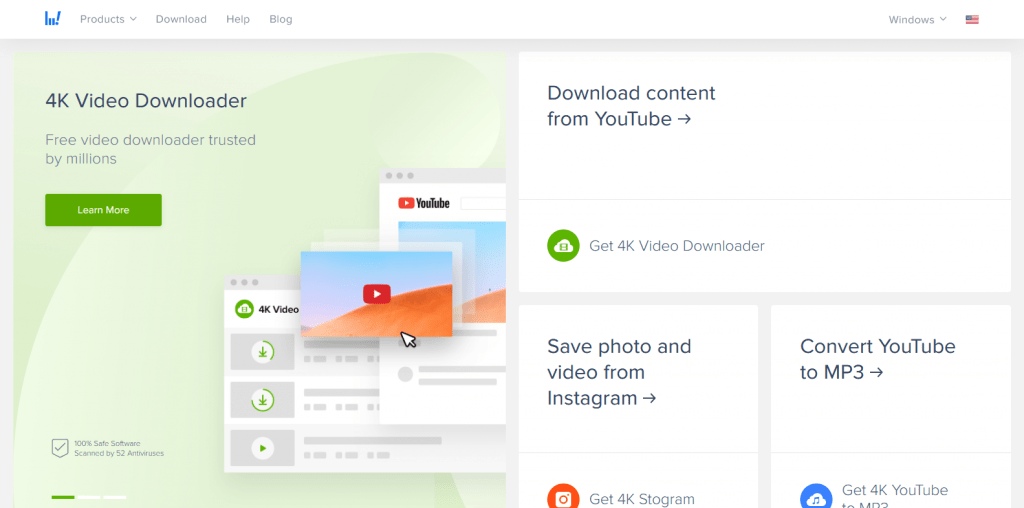 This is another popular YouTube to MP3 Downloader and very easy to download YouTube MP3 music file. Just paste the link to a song you want to download into the application – it's going to be on your computer in mere seconds. Clean interface, straightforward operation, and quick music saving. Transfer the downloaded tracks to your smartphone, tablet, or flash drive to enjoy it everywhere you go.
Features:
Single audio downloads
Audio tracks per playlist
Audio tracks per channel
Simultaneous downloads
4). YTBmp3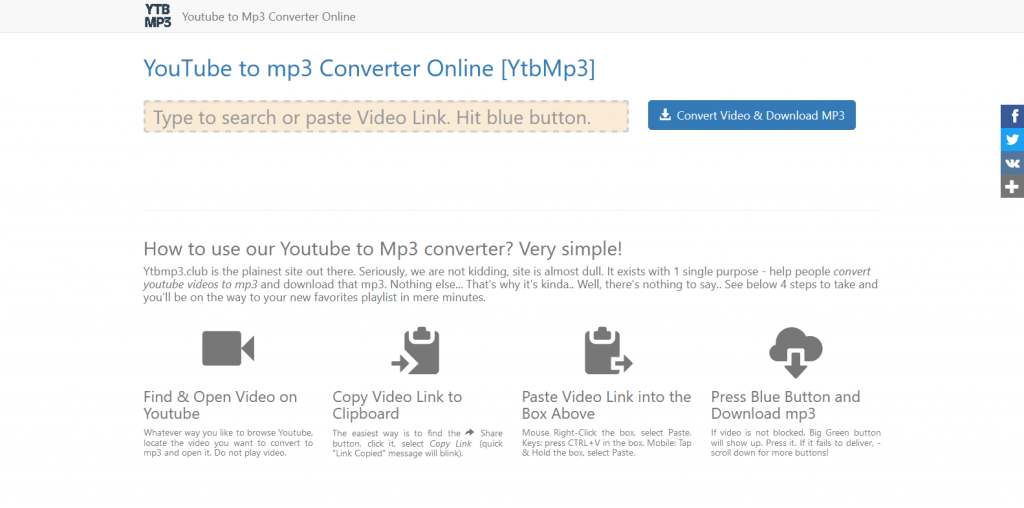 YTBmp3.club is also top YouTube to mp3 online converter. Listen audio from your favorite YouTube videos whenever you want by downloading the highest quality mp3 file that can be converted from source video. Conversion works on any system (Windows, MacOS, Linux, Android, iOS…) or device with a browser.
Features:
You can search for YouTube videos from YTBmp3.
It shows the green button in case the video is blocked.
Download video with a single mouse click.
It allows you to save the high-quality video to your hard disc.
It offers a friendly interface.
5). YTD Video Downloader & Video Converter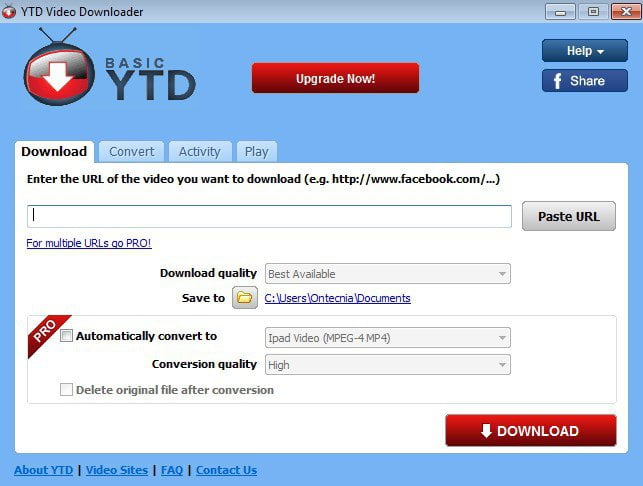 YTD Video Downloader is widely used YouTube to mp3 Downloader website. YTD lets you save videos from tons of websites and play them on your computer. Best of all, it's free with Free Video Downloader! YTD Video Converter Available for Windows and Mac
Features:
Download Entire Playlist with YTD Downloader
Download High Definition (HD videos) Videos
Unlimited Download with YTD Video Downloader
Download Videos at Ultra Fast Speed
6). YouTube to Mp3(YTMP3)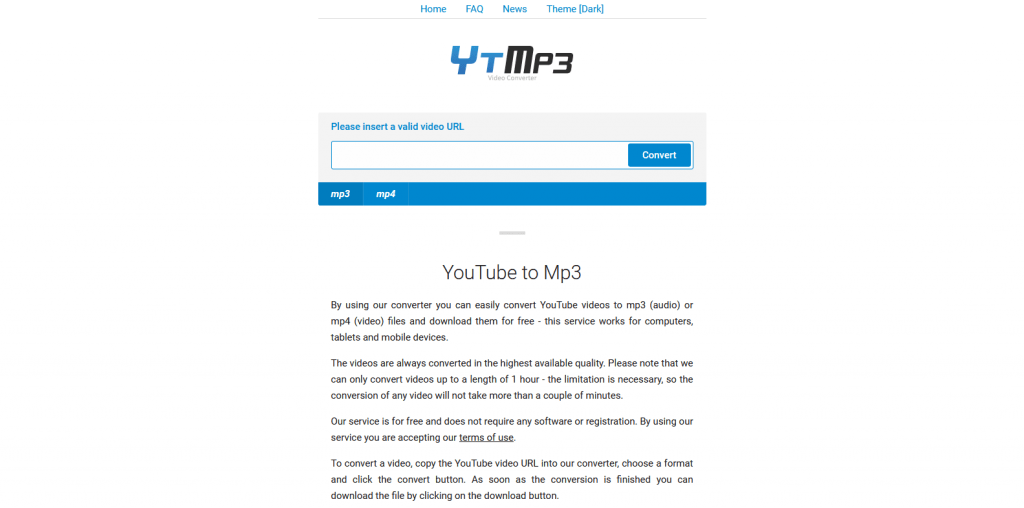 YTMP3 is one of the most accessible YouTube to MP3 converter website available. The good news is that this free tool is compatible with all types of devices, including computers, mobiles, and tablets.
Features:
YTMP3 can convert the video in a couple of minutes.
It will convert the video into the highest available quality.
No need for any software registration.
You just have to copy the URL, select the format, and click the button to convert the video.
7). Easy YouTube to Mp3 Converter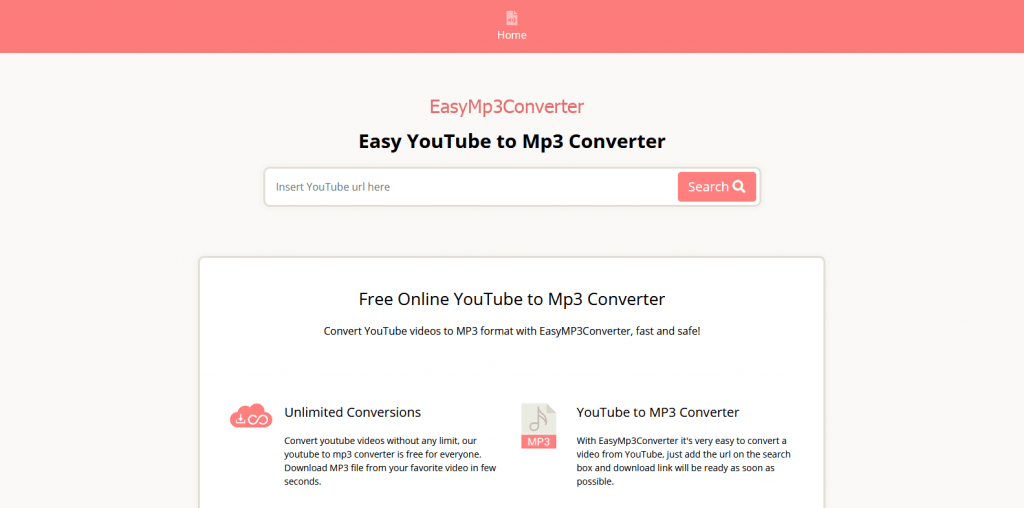 Free Online YouTube to Mp3 Converter, Convert YouTube videos to MP3 format with EasyMP3Converter, fast and safe!
Features:
Unlimited Conversions
YouTube to MP3 Converter
Auto Converter YouTube to MP3
Multiple Quality
No Account Required
Browser Compatibility
8). Download Video and Audio from YouTube(Y2mate)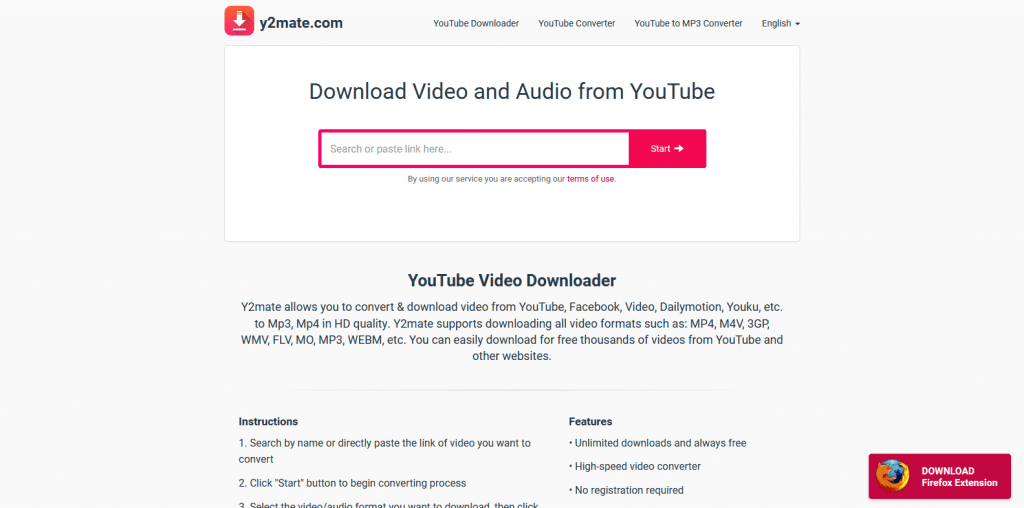 Y2mate YouTube to MP3 Downloader allows you to convert & download video from YouTube, Facebook, Video, Dailymotion, Youku, etc. to Mp3, Mp4 in HD quality. Y2mate supports downloading all video formats such as: MP4, M4V, 3GP, WMV, FLV, MO, MP3, WEBM, etc. You can easily download for free thousands of videos from YouTube and other websites.
Features:
Unlimited downloads and always free
High-speed video converter
No registration required
Support downloading with all formats
9). Converto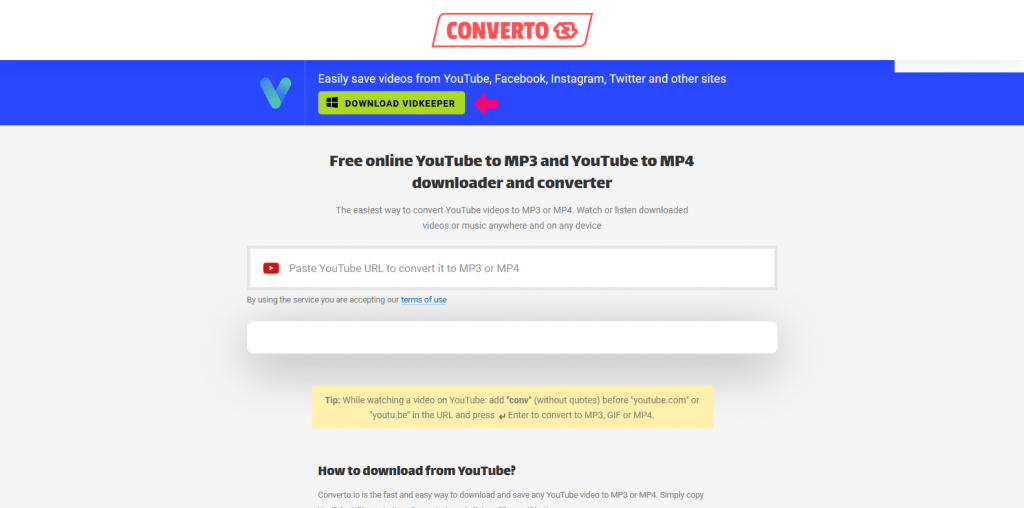 Converto is a fast and easy to use free tool for YouTube toMP3 file download. It allows you to save YouTube videos in both MP3 or MP4 format. Moreover, you don't even have to install it in your computer system as you can use it online easily.
Features:
Converto will automatically add album art to all MP3s. This feature will make the music album look good.
You can change the filename, ID3 tags before downloading.
It will allow you to cut the part of the video(as required).
You can change the video quality through settings.
10). ClipGrab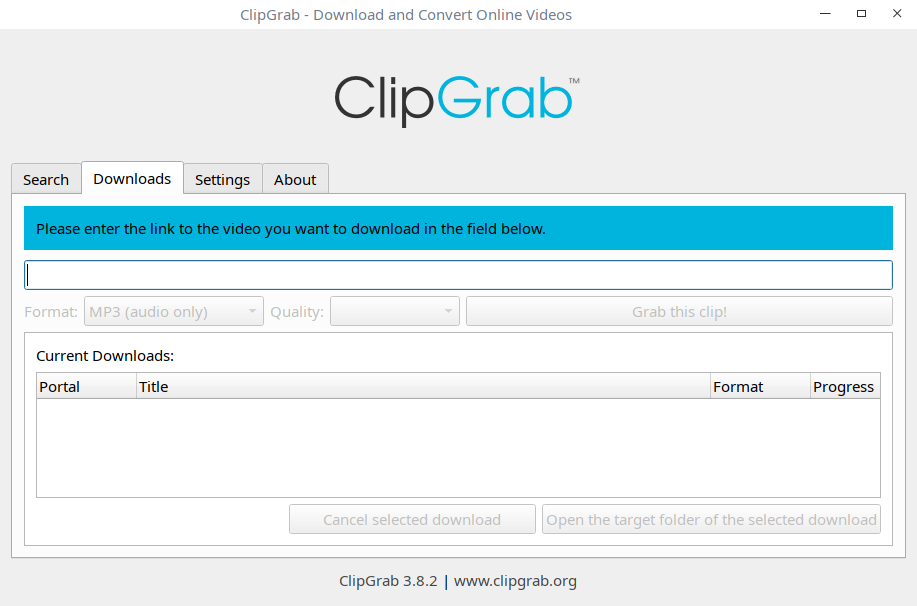 ClipGrab is one of the easiest to use converters to download MP3 from YouTube. It provides a fast and efficient way to download and convert videos independently of your browser. Moreover, it's suitable for both businesses as well as individuals for personal purposes. That said, you can't use it without downloading it first – you need first install it to start using it.
Features:
It offers different downloading options.
Convert clips in just one step.
Supports many other websites like Facebook, Vimeo, and Dailymotion.
This application is available for Windows, Mac, and Linux operating systems.
YouTube to MP3 converter is legal or illegal: Please note that you should only download content from YouTube if you have the permission of the creator/copyright holder of the video. The YouTube terms of use expressly prohibit unauthorized downloading.
Technically, converting a YouTube video to Mp3 is not illegal but downloading the copyrighted content is illegal. Express.co.uk says that it is against the US copyright law to use the YouTube converter to download a personal copy but it is legal to download a converted YouTube video as an Mp3 file.