On April 25, 2020: Gujarat crosses Covid19 cases 3,071 figure, Ahmedabad 2,003, new 256 cases detected in 24 hours, 182 are from Ahmedabad.
Out of total 3071 patients, 30 are on ventilator support and therefore critical, 2616 are stable.
Following is a list of containment zones in Ahmedabad where shops will not reopen. Behrampura, Shahpur, Jamalpur, Khadia, Dariapur, Danilimda in Ahmedabad.
અમદાવાદ પોઝિટિવ દર્દીઓનું લિસ્ટ: આજે નવા 182 કેસ નોંધાતા અમદાવાદમાં સૌથી વધુ, રાજ્યમાં 256 નવા કેસ થયા. હજુ પણ હોટસ્પોટ ગણાતા વિસ્તારો દરિયાપુર, કાલુપુર, ખાડિયા, દાણીલીમડા, જમાલપુર, બહેરામપુરા વિસ્તારમાંથી નવા કેસ નોંધાયા છે. અમદાવાદમાં બહેરામપુરા, શાહપુર, જમાલપુર, ખાડિયા, દરિયાપુર, દાણીલીમડામાં દુકાન નહીં ખૂલે
Latest Detected Coronavirus cases in Ahmedabad AMC area Data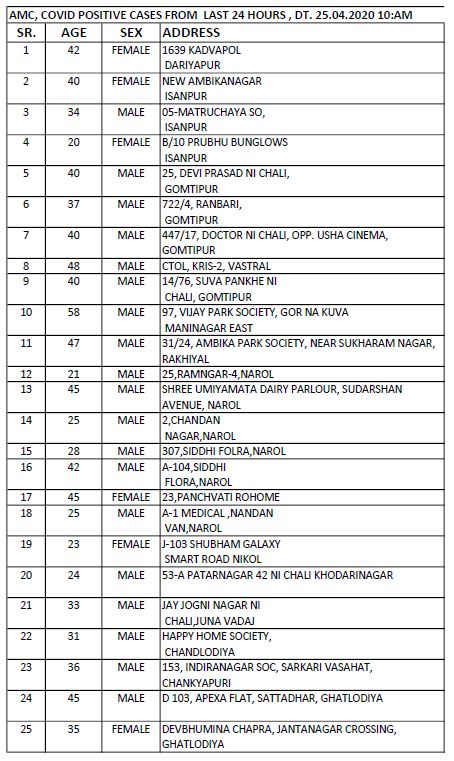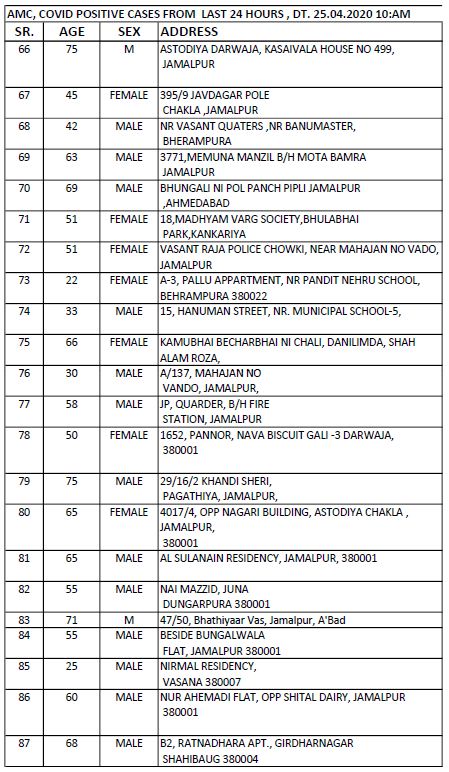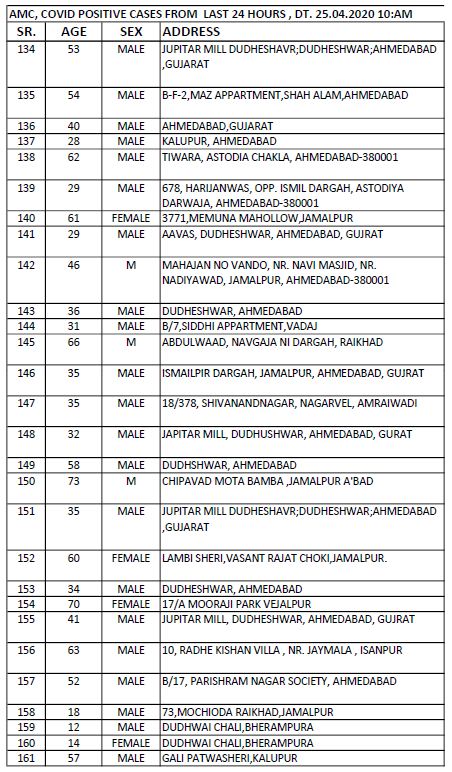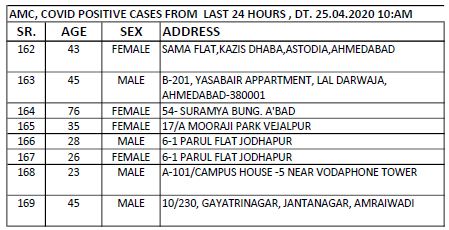 Ahmedabad Covid-19 Positive Patient Locations Map (Source: AMC Data)